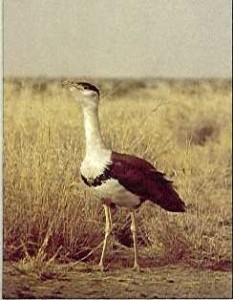 The latest Red List of threatened species has been published by the International Union for Conservation of Nature (IUCN) and according to the list India has 132 species that are critically endangered.
As per the IUCN, the Critically Endangered category is the most threatened category when a species has such a small population that it might get extinct any time if not protected. The red list has included this year 60 plant species and 72 animal species as the most threatened life forms from India.
In the next lower risk category – endangered category, there are a significant number of plants and animals from India that have been listed. This includes 141 plant species and 310 animal species.
The Critically Endangered list included 18 species of amphibians, 14 fishes, 15 bird species and 10 mammals.
Of the 310 species Endangered species, there are 69 fishes, 38 mammals and 32 amphibians.
Two plant species were reported to be extinct in the wild, including the Euphorbia mayuranthanii of Kerala. A leaf frog species and six plants were recorded as extinct, according to the latest assessment
3 of the bird species that have been listed as Critically endangered are Great Indian Bustard, the Sociable Lapwing and the Siberian Crane.
Compared to last year, the conservation status of Baer's Pochard had been uplisted to the Critically Endangered from the Endangered and the Long-tailed Duck to Vulnerable from the Least Concerned, said P.O. Nameer, South Asian coordinator, in situ, Conservation Breeding Specialist Group, Species Survival Commission of the IUCN.
This year, Saker Falcon has been listed as Endangered against the previous year's rating of Vulnerable. The threat perspective faced by the River Lapwing resulted in its classification as the Near-Threatened from the earlier Least Concerned. River Tern, a wetland-dependent species found in Kerala among other places has been moved to the Near-Threatened category from the Least concern and Black-bellied Tern to the Endangered from the Near-threatened in the latest list, Dr. Nameer said.
Sinhoe's Storm-petrel, which was first sighted in India in Chavakad last year, has also been classified as the Near-Threatened. Last year, the species was classified as the Least concerned, he said.
More Related Stories,
Saintly Act Saves Endangered Forest Owlet
Tree that helps Treat Cancer Pushed Towards Extinction