Adhithya Krishnamachari, a 24-yr old IT professional at TCS, Mumbai and a part-time trek leader went for his first trek to the Goecha La trek in the Himalayas. But what made his trip different was how the trekker decided to traverse the green path, by joining WWF's Green Hiker Campaign and cleaning the mountains as he traveled. Here is Adhithya's first hand account of the heavenly trip, useful tips for other eco-conscious travelers and doing his little bit for the environment. This is a guest post via
Green Hiker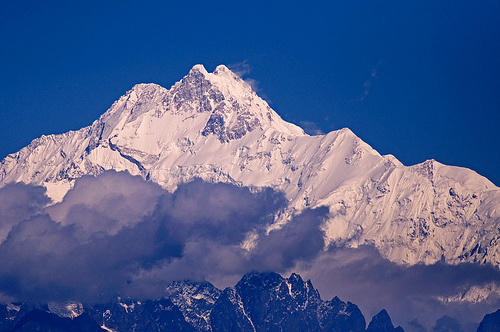 My first Goecha La trek has been my most memorable trek till date, with the Himalaya at their astounding best and Kanchenjunga, the icing on the cake! The entire trek took us from September 29 to October 8, 2012. 
With the strong motivation to contribute to the conservation of this untouched beauty, my team and I signed up for the Green Hiker campaign. Under the campaign, we took the
following initiatives on our trek
: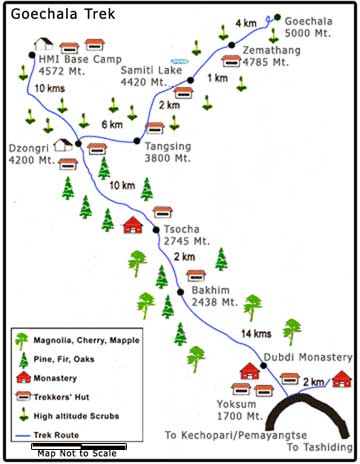 1) Our first mantra was "have legs, will walk". During the eight days it took from the base camp at Yuksom to the summit at Goecha La, and then back to Yuksom, we only walked. Not only was it a thrilling experience to get up close and personal with nature, but it was also reassuring to know that we weren't causing any air pollution.
2) From Day 1, we carried out a cleanliness drive throughout the trek, collecting any garbage found on the way and stuffing it into our daypacks. The majority of this waste was left behind by trekkers and other tourists who passed by that route. To make the drive more efficient, I assigned each team member with one kind of garbage to collect, that is, one would pick up plastic plates and glasses, while another would pick up food wrappers and so on. The garbage we collected every day was dumped into the bin of the nearest trekker's hut or a makeshift dustbin. We ensured that no plastic waste was left behind.
3) We reused water bottles that we collected on the way. This way, the use of plastic was curtailed as we no longer purchased or used new plastic bottles.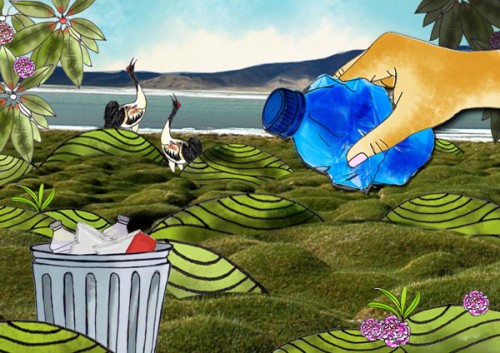 4) Before stepping into a stream, we made sure to remove our footwear and bags, especially since the stream water is the main water source not only for trekkers but also local people and animals.
 5) We sought accommodation only in home stays and trekker huts which not only minimised resource consumption but also benefitted the local economy. None of these trekker huts had electricity; nevertheless, they were great places to bond with fellow trekkers after a long day's walk.
6) In places where
trekker huts were not available
, we set up tents at an optimum distance from water bodies to avoid any kind of disturbance. We did not even camp at Samiti Lake (one of the most scenic places in the trek) to help preserve its purity and beauty.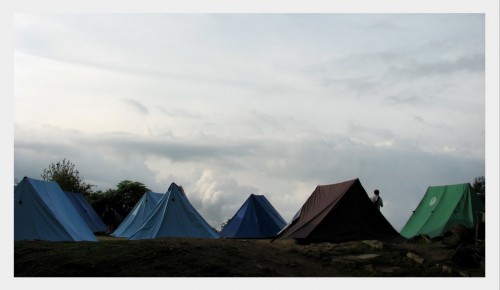 7) Majority of the trekker huts had decent toilet facilities which consisted of pits dug deep into the ground. In places without toilet facilities we choose to dig small pits and covered the same with mud once done. For this we chose spots away from water bodies to prevent pollution.
8. We used only headlamps and torches for light and lit no campfires to avoid air pollution or the danger of accidental forest fires.

9) Our food was cooked on traditional kerosene stoves and our tour operator ensured that minimum forest resources were utilised. In addition, we carried packed lunches and protein bars to prevent unnecesary consumption of fuel for cooking.
We felt a lot of emotions during our trek. There was joy on reaching Goecha La summit after 10 grueling days of climbing, sadness on realising that the trek was drawing to a close, frustration at missing out on some gorgeous views due to fog. But more importantly, we felt a sense of responsibility towards the Himalaya – to protect, to conserve and to respect. More than the trekking, the fact that we did our bit to protect these majestic mountains gives me utmost happiness and motivates me to trek again.
I'd like to thank the Green Hiker team for starting such a wonderful initiative, my trek mates who worked together as a team and our tour operator for ensuring that we trekked responsibly. All in all, I've had a great experience as a green hiker and I hope to implement these sustainable measures in my future treks as well.
– Adhitya Krishanamachari
India's Endangered loves Adhitya for his choice of responsible traveling. If you too wish to be a green hiker do visit
www.wwfindia.org/greenhiker
More Related Stories,