Scroll down to download the free e-comic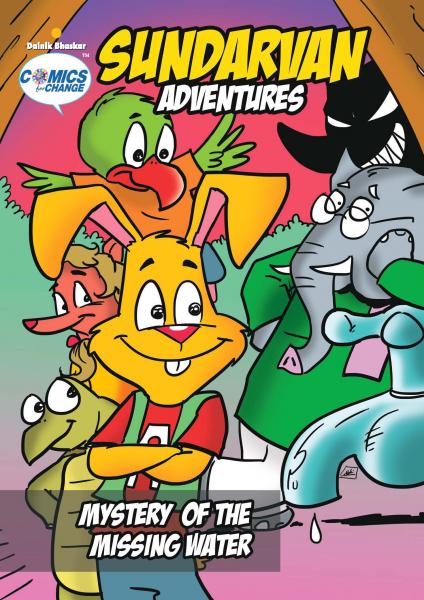 Adi the rabbit is friends with a parrot, a doe and an intelligent tortoise. Together, the 4 friends have an adventurous story to tell kids when they save water for Sundarvan village by foiling the villainous water-stealing jackal Paplu Bhai.
This is the first e-comic created by Dainik Bhaskar Group in India, UN Global Compact Network India and the United Nations Environment Programme in a 3 series comic book titled 'Comics for Change'. It is a way to catch the attention of children and promote awareness of the importance of environmental protection and sustainable resource consumption.
The first comic titled 'Sundarvan Adventures – Mystery of the Missing Water' in the series was launched on World Environment Day last month. There are plans to create 2 more of such comics for children creating awareness around electricity and food using the powerful medium of visual story-telling.
"Using superheroes to weave stories around issues that matter to us is an interesting way to bring about a significant change in the society by creating super heroes of tomorrow," said Mr Girish Agarwal, Director, Dainik Bhaskar Group, India's largest newspaper group with editions in major Indian languages and in English.
With more than 500 million people under the age of 20, India has one of the world's largest youthful populations which will play a key role in setting the nation on a sustainable development path that will be transformational for both people and planet.
Get Comics For Change Sundarvan Adventures here. We love it!!
Story via web.unep.org
More Related Stories,
Book Review: The Tusk That Did The Damage
Pashu: Animal Tales From Hindu Mythology