A 27 year old forest guard died of suffocation in Bandipur National Park in Karnataka when he was trying to douse a wildfire in the park. 4 other guards were rescued and our in a critical condition.
Murigeppa Tammangol, a native of Vijayapura district was recruited in 2011 as a guard with the forest department. He was deployed at the Kalkere range of Bandipur.
Last Saturday, the Moliyur range of the forest suddenly flared up and soon turned thousands of acres to ashes. Murigeppa who had been shifted to the range,tried to douse the fire with his team by creating a fire line by using branches and other material.
Read More: Mystery Revealed – What Triggers Seeds To Sprout After Forest Fire
He moved into the forest, not realising that he was surrounded by smoke from all sides. The forester soon found it difficult to breathe.
"While the men were able to douse fire on their route, the entire area was engulfed in thick pile of smoke. But by then, the oxygen was completely cut off and he was struggling to breathe," a personnel from Bandipur said.
He was rescued and taken to a hospital but the guard lost his life on the way. This is the first such incident of a guard dying on duty because of a forest fire.
A range forest officer Gangadhar, forest watchers Manu, Manju and Nayaka suffered sever injuries and are being treated in the hospital.
750 acres turns to ashes
The fire that broke out last Saturday could only be controlled after 24 hours of operation. Around 600 people including volunteers, forest guards from neighbouring forest ranges, and Soliga tribals helped in controlling the fire.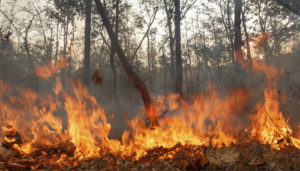 Forest officials suspect it to was the handiwork of vandals from the Kebbepura haadi area. "They might have set dried elephant dung on fire, which starts burning slowly and eventually spread to the forest," they added.
The fire destroyed 750 acres of the forest within hours.
The dry conditions of forests this time of the year is vulnerable to wildfires. But more often than not, the fires breaking out nowadays are man-made and not natural. The forest department has to be on high alert to not just stop miscreant from causing such damage but also stop the fire from spreading as soon as it is detected.
Read More: India Has The Highest Forest Ranger Mortality Rate In The World