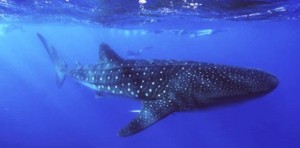 For a long time it was thought that the endangered whale sharks that are seen in the waters of Indian ocean near the coast of Gujarat state migrated from Australia each year. But now genetic samples taken of the species point that they might be native to the Indian waters rather than migrants.
Each year during winters many whale sharks – the largest fish in the world that are mainly found in the coasts of Australia travel to warmer waters in search of food. For many years it was believed that these whale sharks disappeared from the Australian shores and appeared at the Indian shores during the migration season. Therefore there was no reason to doubt that they were the same fish.
But Wildlife Trust of India (WTI) a non-profit conservation organization found out that five genetic samples taken of the fishes found in Gujarat did not match that of the fishes found in Australia. Senior director of the organization Arun Kaul also added that photographs of the two groups of whale sharks were also different.
"The samples collected so far have not found a match anywhere in the world, which means they are unique," he said. Still, more data will need to be collected before it can be categorically asserted that the  whale sharks are a "distinct populace," he said.
The research with the surprising results is being currently coordinated with Ecocean an Australian organization that has comprehensive data on whale sharks. A scientific advisory council has been set up to study whale sharks with officials from Wildlife Institute of India, Space Applications Centre, National Institute of Oceanography, WTI, Australian Institute of Marine Science, University of Illinois and others.
The council is tracking the movement of the sharks, their breeding habit and also if cross-breeding is taking place.
IF the intial resut is found to be true, this would mean a greater gentic diversity of the species. It would also lead to more focused approach by the Indian government to raise the bars of conservation of a species about which very little is known in India
"Perhaps we have discovered a population that could be endemic to Indian territorial waters," said Satish Trivedi, senior official, community development, TCL. Such a discovery is significant for India, he said.
Currently there are two known sub-species of the whale shark. One in Australia and one in the Atlantic ocean. The Austrlian shores are considered a safe haven for the fishes as their number is quite good in the area.
In Indian, the Veraval and Sutrapada are also considered safe havens, and a promising site beause of the abundance of sea plankton and sea grass on which the fish feed.
WTI has now decided to tag the whale sharks and observe their movements.