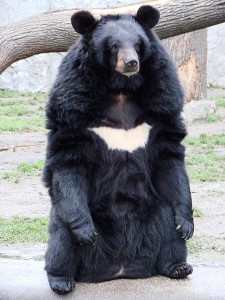 The Delhi zoo is in celebration mood, all thanks to a Himalayan Black Bear that was born in the bear enclosure after a gap of five years. What is also exciting is that this is the first time the zoo is monitoring the mother and baby with the help of CCTV cameras.
Zoo workers had been monitoring the mother and found last Monday that she had given birth to a healthy Himalayan Black Bear. The species goes into hibernation during pregnancy and does not come out of its cave till the baby is 12 to 15 days old. Therefore, the use of CCTV cameras placed inside the bear's den helped the zoo workers monitor the condition of the mother and newborn, without disturbing them.
"Bears are ferocious animals and once they go into hibernation, it is difficult to find out when the baby is born. So, when we noticed the pregnancy this time, we decided to install CCTV cameras in her cave," said R A Khan, curator (Education) at the Delhi Zoo
The zoo workers first noticed that the female bear was pregnant when she stopped eating about 24 days ago.It is a common trait of the species, and the same bear had behaved in similar fashion when she gave birth in 2006. To safeguard her, the workers immediately shifted her to another den.
"To make sure the baby is safe, we immediately removed the other four bears from the enclosure and placed them in another one a few metres away. Sometimes, bears fight among themselves and, at a time like this, the mother should be left alone," said Khan.
 The Himalyan Black Bear were brought to the Delhi zoo when it was set up in 1962. But with time and due to natural causes the population of the bears in the zoo dropped from 10 to 5 at present excluding the newborn. The zoo is now trying hard to create an environment where there is more breeding and thus increase the number of bears in the zoo.
"Though these bears come from cold climes, they have now become habituated with Delhi's weather. In fact, we even provide them heaters during the winter. While breeding them is a little difficult in Delhi's extreme weather, the bears seem to have adapted well," said another zoo official.
The zoo authorities have still no clue of the baby's gender as mother bears are very protective and despise any human contact with the cub.
About the Himalyan Black Bear
The Himalayan Black Bear is also known as the Asian Black Bear or the moon bear because of the white crescent like shape visible on its chest. The animal is known to be very ferocious and may attack without provocation. IUCN has put is in the vulnerable species category.
-Atula Gupta
Article source Image courtesy Guerin Nicholas via Wikimedia commons