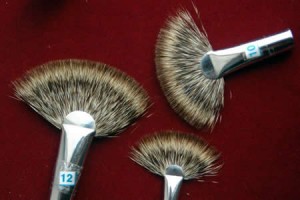 The next time you pick up a paint brush or a make-up brush, think twice. Chances are the brush might have been made of mongoose hair and you have inadvertently become part of an international illegal trade which is going unnoticed for decades. India is the one of the largest exporters of such kind of brushes made by killing thousands of mongoose annually.
"The trade is rampant but rarely highlighted, as the focus remains on the larger more charismatic mammals," says Jose Louies, Manager –Wildlife Trust of India (WTI).
WTI's Enforcement Assistance Team covered an operation for eight months before nabbing one trader in Kolkata. Authorities seized 1300 brushes from the man who claims to have been in the business of exporting them and other animal parts for two decades.
He said that the brushes were in high demand by artists and also in the make-up industry. That the man knows that the trade is illegal was clear when he gave special instructions to prospective buyers, to courier the goods rather than carry them in person and face risk of seizure at airport checks.
The man dealt with buyers in at least seven countries over the internet.
This is the fourth time that WTI has nabbed traders of such kind.
"Yet another incident to show that we need to spare focus on the virtual world too for wildlife protection," added Louies, who had carried out the groundwork leading to the first arrest of online wildlife traders in India in 2008.
"A number of seizures were carried out with our team assisting authorities in various parts of the country during the study," recalled Ashok Kumar, Vice-chairman, WTI. "One particular seizure in Moradabad, Uttar Pradesh, involved a haul of paintbrushes that amounted to 50,000 dead mongooses."
In April 2002 filmmaker Syed Fayaz and WTI made a film titled 'A Brush with Death' that covered footage of the undercover operation revealing the brutal truths of the trade. Eventually Indian government in a notification dated October 11, 2002, upgraded all species of genus Herpestes (mongoose) to Schedule II Part II in the Wild Life (Protection) Act, 1972.
Watch trailer of the Film 'A Brush with Death'
This gave the mongoose as high a protection as the Tiger and therefore any trade related to the animal can lead to imprisonment of maximum seven years.
"This seizure was not as big as the earlier seizures, but it clearly indicates an overseas demand for these paint brushes. Do we or our children really need to use these blood-stained paint brushes that can cause these species to go extinct, when there are alternatives available. We cannot afford to lose our wildlife to lack of awareness, or apathy, and tackling this requires concerted effort," said Kumar, calling for teachers and parents to help prevent unknowing use of mongoose hair paintbrushes by children.
Know these Facts before you Buy a Paint Brush
50 Mongoose are stoned and killed to get 1 kg of Mongoose hair.
Mongoose are killed mostly between the months of April and May when the rabbi crops are harvested.
The hair is plucked by hands after the animals are stoned to death. Sometimes the hair is removed even before the animal dies.
There are  three species of mongoose recorded in wildlife trade in India – Small Indian Mongoose (Herpestes auropunctatus), Striped-necked Mongoose (Herpestes vitticollis), and the Indian Grey Mongoose (Herpestes edwardsii), all of which are protected under the Indian Wildlife Protection Act 1972.
Sherkote and Moradabad in Uttar Pradesh alongwith places like Jehangirpuri & Shahdhara in New Delhi apart from places in Kolkatta and Mumbai and many parts of Tamil Nadu are the major trading hubs for mongoose hair brushes, according to Vasudha Mehta, a journalist and an environmentalist.
Each mongoose yields about 40 gm of hair but when the hair is sorted, only 20 gm of hair is found usable for making paint brushes.
Mongooses prey on rats, mice, snakes, lizards, frogs, insects and other small animals and are therefore useful farm animals saving billions of worth of food crops annually.
How to recognise a mongoose hair brush?
Mongoose hair is stiff and therefore points steadily upwards in a brush.
The hair has a shaded gradation of grey, brown and dark brown.
The tips of the brush are dark brown in colour with cream or greyish centre and again dark colours near the roots.
Related Stories:
How Mumbai Mangroves save the City Everyday
Indo-Pak Border Dividing Animal Homes
Why Owls of India do not like Diwali
Reference: Wildlife Trust of India, Randomfootprints