This post is from are archives originally published on 19 February, 2011.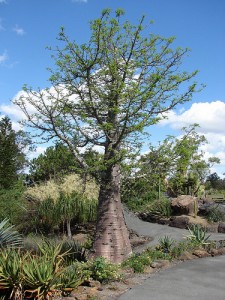 The state of Karnataka in the southern part of India has plenty of ancient monuments, structures and history that it takes pride in. But giving due respect to its natural heritage too, the state has now come up with the latest list of ten heritage trees that have seen centuries pass by them and have roots going deep into the soil of this land. 
While most trees making into the list are quite commonly found Indian trees like the Ficus Religiosa (Peepal) or the Tamarindus Indica (tamarind) trees, there are few that are not only ancient but also rare species to be found in these parts of the world like the 359 years old Adansonia digitata-Malvaceae in Bijapur taluk. The tree is more commonly known as the Boabab tree. 
How the tree came to Bijapur 
Two of these trees commonly known as the baobab trees, have been listed and identified in Bijapur. One is near the near the Ibrahim Roza monument in Bijapur with a girth of 10.84 m and height of 5 m. and another at Yogapur Dargah, near Bijapur, which is believed to be atleast 359-year-old with 9.2-m girth and seven-metre height. Both these trees were planted during the reign of Adil Shahis. 
Experts say that the kings of Adil Shahi dynasty were all fascinated by nature and these particular saplings of the adansonia digitata had been imported from Turkey to be planted in Bijapur. The kings were very particular about the nurturing of these plants and took care of their needs like their own children. 
Ayurvedic Importance 
"Fruits and flowers of these trees are used for medicinal purposes. We consider herbal medicine prepared out of this tree's flowers and fruits as a panacea for several critical diseases," says the chief of Yogapur Dargah, without revealing what those critical diseases are." 
According to the site www.herbalcureindia.com the tree is called goraksi in India and mostly believed to have been brought here by African and Arabian traders. 
The site says, "Goraksi is sour and sweet in taste….. The pulp of the fruit is oily, cooling, beneficial to heart and mild laxative in properties. The bark skin is an appetizer, astringent, cooling and decreases the pulse rate. The leaves are oily and astringent……The bark skin, fruits and the leaves of goraksi are used for medicinal purpose. Externally, the paste of its leaves is applied on the swelling. Internally, the pulp of fruit is useful to alleviate the burning sensation in fevers. The skin of its fruit, by itself, reduces the fever. The excessive thirst is alleviated effectively with the pulp of fruit. It is also salutary in controlling hyperhidrosis in tuberculosis." 
Thus, the government of Karnataka has done a commendable job in atleast recognising the ancient trees and highlighting their importance in the ecosystem of the area. 
All image courtesy tatters:) via cc Flickr Image 1 , Image 2 , Image 3