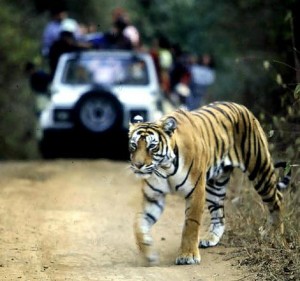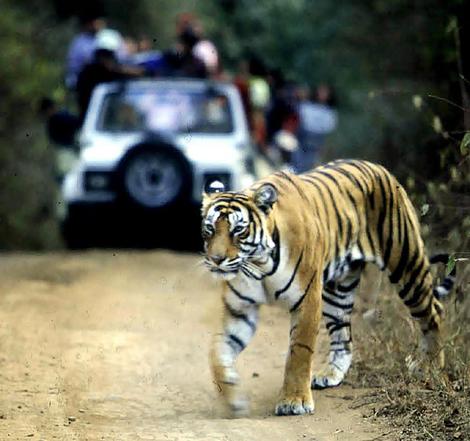 How far will you go to save the tigers of India? Few avid conservationists have answered the question literally, by planning to go on a 6,500 km road trip panning India and spreading the word about conservation and protection of the national animal.
It is a team of 10 adventurers from Delhi and other parts of the world who have decided to drive in a car and cover 14 tiger reserves, starting from Kochi. The team is being led by adventure traveller Richard Meredith along with former IAF fighter pilot Sanjiv "Daboo" Dewan and motorcycle world record holder Michael Williams, under the banner "Save That Tiger". The funds raised during the road trip will be used to build infrastructure for the fast diminishing species.
UK-based Meredith has previously journeyed across India from Pakistan to Bangladesh by car and from Mumbai to Kanyakumari by train. He has helped generate more than £400,000 in recent years for various social causes. He hopes that the tiger project can generate the needed funds for the protection of the animal.
According to Dewan, "Tiger is most magnificent and endangered cat. We are trying to reach as many people as possible, covering nine states including Tamil Nadu, Karnataka, Maharashtra, Madhya Pradesh, Rajasthan, Uttarakhand and Uttar Pradesh, before finally reaching Delhi. During the course, we will meet and interact with local communities, forest officials and conservationists to identify and understand areas that need urgent action."
Williams added that India being home to half of the world's tiger population had a responsibility to save the animal from disappearing.
"India with 1706 tigers is home to over 50 per cent of the world"s remaining tiger population and has become the epicentre of the global battle for the species" survival. It now becomes our responsibility to spread the message so that our coming generation can also see this beautiful animal," said Williams.
So far, the drive is not funded by any government body and the funds raised through the initiative will go to bona fide sustainable wildlife conservation efforts in India.
"There are many rangers who are working for the protection of the animal but does not possess basic infrastructure. We are looking at generating around £50,000, which will be used to empower them," added Michael.
The expedition will begin early next year and continue for 40 days. The vehicles for the trip have been provided by General Motors (India).
The team also plans to have an international signature campaign through their website which will be handed over to the environment ministry at the end of the trip.
Those interested in knowing more may visit their website here.
Related Stories:
 Madhya Pradesh Without a Wildlife Doctor
Old age Home for Tigers to come up in West Bengal
Tiger Dad Displays Rare Parenting Skills
Reference: Mid-day