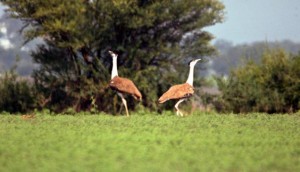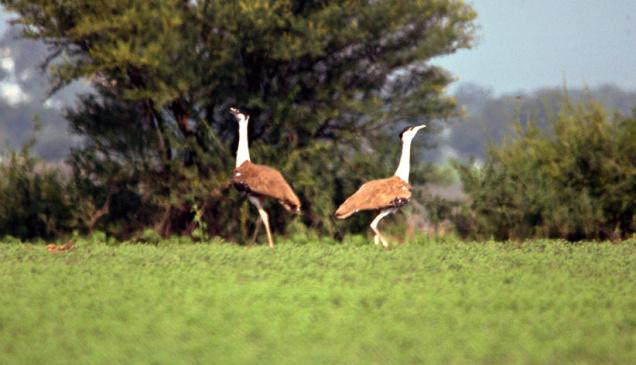 17 year old Preeth Khona was on his way to Bangalore when he accidently sighted a pair of Great Indian Bustards foraging in a field in Chelugurki village, 25 km from Bellary in Karnataka. The chance sighting raises hope for the bird which is critically endangered and one of the rarest species in the world.
Chellaguri is located 60 km south of Siruguppa taluk, where the bird was spotted in 2006 and sighted again in 2008. It is here that Santosh Martin and Samad Kottur have been documenting and researching about the birds since 2006. Preeth along with Shruthi Punyamurthy and Sunaina Martin is member of a search team led by Santosh and Samad.
But the budding naturalist was not on a search mission this time. He was merely on his way to Bangalore, when his observant eyes saw a couple of these gigantic birds at a distance. An earlier search operation in the same village had not led to any sighting.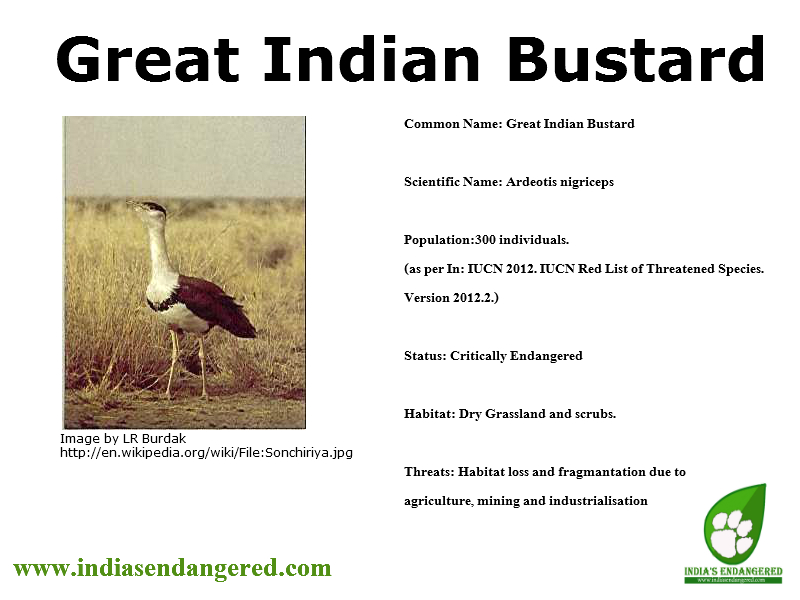 (Kindly link back or point the source of the above endangered species flash card to http://indiasendangered.com if using for presentation and websites. Not for commercial use.)
The Great Indian Bustard was once a bird found almost in all states of India, but now it resides in fragmented pockets of Madhya Pradesh, Maharashtra, Gujarat, Rajasthan and Karnataka. The major threat to the species is the vanishing grasslands and conversion of these into farmlands or urban buildings. Tall grass and spread out meadows are the preferred home for these birds that are tall and love foraging in the fields. The Great Indian Bustard is also a very shy bird that hates human intrusions. Over the past few years conservationists have observed that the birds have failed to increase in number as the breeding pairs are easily scared and distracted by human presence.
According to Vijay Mohan Raj, Director, BRT Tiger Reserve who last sighted a Great Indian Bustard ten years ago in the same location, these birds migrate between the black buck habitats of Rollapadu and Adoni in Andhra Pradesh and Siruguppa, Chelugurki, Koppal, Gadag and Rannebennur in Karnataka. However the sighting is extremely rare.
"Karnataka has a good breeding population of GIBs and their conservation has to be taken up by the government. No significant effort has been made so far," Mr. Martin said to The Hindu.
Last year the Central government had approved a project Bustard for these birds ensuring that their habitat in the five states will be protected. Hopefully this new sighting will trigger the much needed action to save the magnificent species.
More Related Stories,
17 Species to get Help from Becoming Endangered and Extinct
Reference and Image