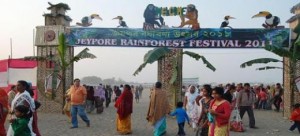 Jeypore reserve forest in Assam state is India's only wet evergreen rainforest. It is also extremely special because it is home to most number of wildcat species in the country. To highlight the special status of this wildlife reserve and make local people realize the importance of the forest, the district authorities organized the first rainforest festival of the region.
India has three rainforests. Silent valley in Kerala, Andaman islands and the Jeypore Reserve Forest, part of the 111 sq km Dehing-Patkai Wildlife Sanctuary, 60 km southeast of Jeypore city of Assam.
What makes the jeypore habitat extremely precious is its dense population of wildcats including the royal Bengal tiger. It is also home to the only apes found in India – the hoolock gibbon.
According to the DFO Anurag Singh the forest is a wet evergreen and special because  it is one the India- Malaysia-Burma axis.
"What sets Jeypore apart from other wildlife preserves, leave apart rainforests, is that it is home to seven varieties of wildcats including the Royal Bengal tiger, clouded leopard, common leopard, marbled cat and golden cat," Singh says.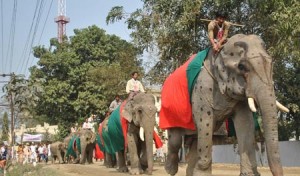 The dibrugarh distirict authorities organized the first rainforest festival  on Friday to highlight the world ecological status of the forests.  It was also done to showcase the ethnic and green heritage of eastern Assam.
The move is being hailed as a positive effort from the government as Jeypore reserve and the adjoining areas have become a retreat for militants and anti-social elements for the last two decades.
Environmental concerns have also been raised with regards to felling of trees and extractions of sand and stones from three rivers – Namsang, Burhidehing and Dilli – that skirt the Jeypore area.
"The rainforest with its unique biodiversity controls climatic conditions and water cycle thereby ensuring overall well being," said Assam assembly Deputy Speaker Pranati Phukan.

"The presence of the unique rainforest in this part of the world is a great boon for the local populace".
The Rainforest Festival thus was a good effort to re-introduce people to the unique gift og nature they have in the region.
Picture courtesy assamtimes.org