Diwali is just around the corner, the perfect time for festivities, sweets and gifts. And here is the perfect gift that can bring cheer to your loved ones and help you do your bit to contribute to wildlife conservation. This Diwali you can gif these unique silver coins depicting endangered wildlife like the Bengal Tiger, Black-necked Crane, Green Turtle and Nilgiri Tahr; being sold online.
Read More: Why Owls Of India Do Not Like Diwali
This initiative was launched jointly by the State-run trading company MMTC-PAMP (a joint venture between public sector MMTC and Switzerland's PAMP SA) and WWF-India. The new limited edition silver collectibles named 'the Conserve Wild India 2018 Series' are available online on e-portal Amazon India and the WWF-India store.
"This exclusive, limited edition collection struck in 999.9 fine silver focuses on rare, endangered wildlife in India. The Bengal Tiger, Black-necked Crane, Green Turtle and Nilgiri Tahr feature on these coins in carefully crafted, authentic designs based on real images of these species in the wild," Roopali Srivastava, Director- Conservation Products, WWF-India said.
Gagan Bhai, National Head of Sales, MMTC-PAMP says, "We are delighted at the opportunity to partner with WWF-India, and contribute to the cause of environmental sustainability. We have always focused on crafting clean, green, ethical products through responsible supply chain and manufacturing practices that reduce our pollution footprint and resource consumption."
Amazon is the online channel through which the sale of these coins is being made. Arun Sirdeshmukh, Business Head, Amazon Fashion, a unit of Amazon India said, "We are excited to launch the Conserve Wild India 2018 series, limited edition silver coins designed by MMTC-PAMP and WWF-India exclusively online on Amazon Fashion. The beautifully crafted designs convey a strong social message of animal welfare and will definitely help in spreading greater awareness especially during the festive season."
Of the four species chosen, the Royal Bengal Tiger is well-known and most often in the news for the dwindling numbers. Conservation efforts have been and are still going on thereby maintaining the numbers at a steady level.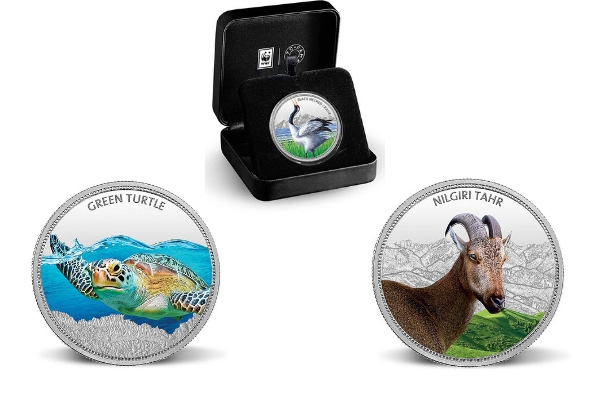 The green turtle is one of the larger varieties of marine turtles and an herbivore. It is currently on the IUCN endangered list and one of the main reasons that it got there was due to it being hunted for making soup and for its eggs.
Black-necked Crane is one of the birds listed as vulnerable by IUCN that breeds in Ladakh's high altitude landscape. In India, dogs are major threat to these birds.
The Nilgiri Tahr is also an endangered species of which only about 2500 are there in the wild.
This Diwali let us spread the light of awareness on endangered species and make the future of those species brighter.
Read More: Noise Pollution In Cities Detrimental To Birds And Animals