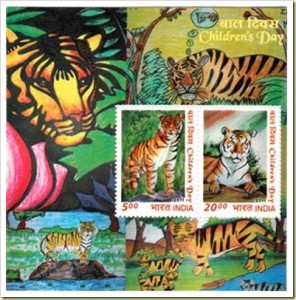 The Department of Post marked Children's day by releasing two postage stamps designed by school children and sending the message of "Save the Tiger" on Nov. 14. The stamps will be for the denomination of Rs. 5 and Rs. 20.
The Postal department of India had held a contest for school children during Indipex 2011 to spread awareness about tigers. The children were asked to design postage stamps keeping the theme 'save the tigers' in mind.
"India Post held "Design a stamp" contest on the "Save the Tiger" theme at Indipex 2011, to spread awareness on tigers, one of the most endangered species in the world and on the verge of extinction. Today, we are releasing stamps on this theme," DoP Secretary Manjula Prasher said.
India Post presented the collection of prize winning entries at the national level on a set of two stamps miniature sheet and First Day Cover.
Painting of Class 5 students Shri Raksha of Karnataka, A Priyadarshini of Tamil Nadu, Ashok Purushottam of Kerala, Ria Dutta of HP, class 8 student Jaishree Sahu of Orissa, class 6 student Rangoli Pandey of UP, Class 9 student Nishi Bodadia of MP and class 10 student Shubham Sahu of Chandigarh was selected for the stamps released today.
Related Stories:
Urban Jungle No Place for Animals
Cricketer Zaheer Khan Adopts a Tiger
Reference: MSN