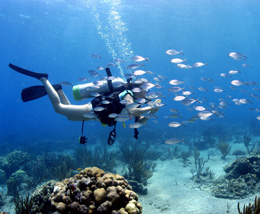 Reliance Industries Limited (RIL) one of India's biggest corporate led by Mukesh Ambani has tied up with Ministry of Environment and Forest to create a research facility in Gujarat state called "National Centre for Marine Biodiversity' . This is the first ever research centre to be made in the Public-Private Patrnership (PPP) mode in the country.
The centre is planned to be established in Jamnagar in Gujarat and it would exclusively focus on the marine species of India. The first marine national park of India will be developed in the same area and with the research centre it would definitely be a one-of a kind facility in India that truly works to conserve the endangered marine diversity of our coasts.
In India, so far, around 25 species of fish and amphibians have been listed as critically endangered species  and till date not much has been done to protect these species. Earlier in March, Minister of Environment Jairam Ramesh had raised the concern that the endangered marine species needed a protected habitat first to give them a chance of survival.
The plan to form the research centre and the national park in Gujarat are thus the first formal step the government is taking towards marine conservation.
The minister also stressed the need for young researchers who would be a part of this crucial project and thought that the partnership with a renowned corporate like RIL that already had quite a hold in the state would help build the research centre truly world class. He wished the research centre to be developed as an enterprise and knowing RIL's cutting edge research and development expertise he hopes the same is enforced t save marine species.
– Atula Gupta
Article reference: groundreport
 Related Stories:
First Whale Shark Satellite Tagged in India
Bottom Trawling Method Bulldozing Over Marine Life
Turtles Become World's Most Endangered Vertebrates